The days of giant tube televisions encased in wood are long gone. Today's sleek flat screen TVs are actually designed to be mounted on walls.
Of course, you don't have to install your new television on a wall. However, there are a lot of reasons hanging your TV from the wall is an ideal option. And, there are more than a few places in your home where mounting a TV to the wall makes a lot of sense.
1. In a Smaller Living Room or Family Room
Sometimes space is a concern. If you live in an apartment or have a home with a smaller living area, flat panel TV mounts solve the problem.
Many people are sticking their DVD collections in the attic as streaming services are used more often and movies we own are being stored digitally on the Cloud. For that reason, you may not need all the storage of a huge entertainment center.
Mounting your television to the wall in a smaller living room or family room frees up floor space and gives you extra breathing room. You'll love how it makes the room feel more open.
2. In a Basement Rec Room
Finished basements are a great place for wall-mounted televisions, especially if you've remodeled a room with a bar. Hanging your TV set from the wall gives it that sports bar vibe so you and your friends can watch the game without going out and dealing with noisy crowds, slow service, and overpriced drinks.
If you have a pool table in your basement rec room, mounting a flat panel TV to the wall is the right choice. That's because you can set it closer to eye level when people are standing.
Even if your basement is a playroom for the kids, putting the TV on the wall leaves more space for running around and having fun. Plus, you'll eliminate cords that can be tripping hazards, making the playroom safer, too.
3. In the Master Bedroom
You're probably going to fall asleep binge watching shows on Netflix anyway, so why not do it in your bed? That way you avoid waking up on the couch with a kink in your neck at 3 AM.
Space is limited in many bedrooms, and setting a television up on a dresser could mean you have to block a mirror or take up space for other items like jewelry, perfume and personal care items, or decorative accents like plants, family photos, and candles.
Many homeowners use a corner of their bedroom to mount a flat screen television at a higher angle, which is perfect for when you're laying down.
Wall-mounted TVs in the bedroom let you check the news and weather before you get up, catch your favorite late night talk show, or use it to stream some relaxing music as you drift off into dreamland.
Just don't lose your universal remote in the sheets!
4. Above the Fireplace
Most interior design experts will tell you televisions should be placed at eye level for the best viewing experience. So they may not recommend installing a television above a fireplace, since it means you'll need to look up to watch TV.
However, for some homes, putting the television above the fireplace solves a common problem. When you want a television and fireplace in the same room, it can be difficult to decide how to arrange the furniture. You need at least one of them to be the center focus of the room, but which one do you pick?
How do you watch holiday specials on TV and enjoy a cozy fire at the same time?
An interior designer writing for Houzz says installing the right mount makes a big difference. The nice thing about flat panel wall mounts is that many of them can pull out, swivel, and tilt. That means you can point the television downwards at an angle better-suited for viewing while seated or reclining. With the fireplace and TV in the same spot, it's easier to set up one large sitting area instead of two smaller ones.
5. In Your Home Theater
It's more affordable than ever to purchase a very large flat screen television for your home. That's why lots of people are setting up rooms as home theaters.
It's cheaper than paying for movie tickets and snacks. You're in the comfort and privacy of your home, near your own kitchen, and you can hit the pause button for bathroom breaks!
Some people use projectors for their home theaters. If you don't have a white wall or a dropdown screen, this may not be the best choice. However, a wall-mounted television works in just about any situation, and it ensures you'll always get a quality picture.
Get Help Doing It Right with A.V.E.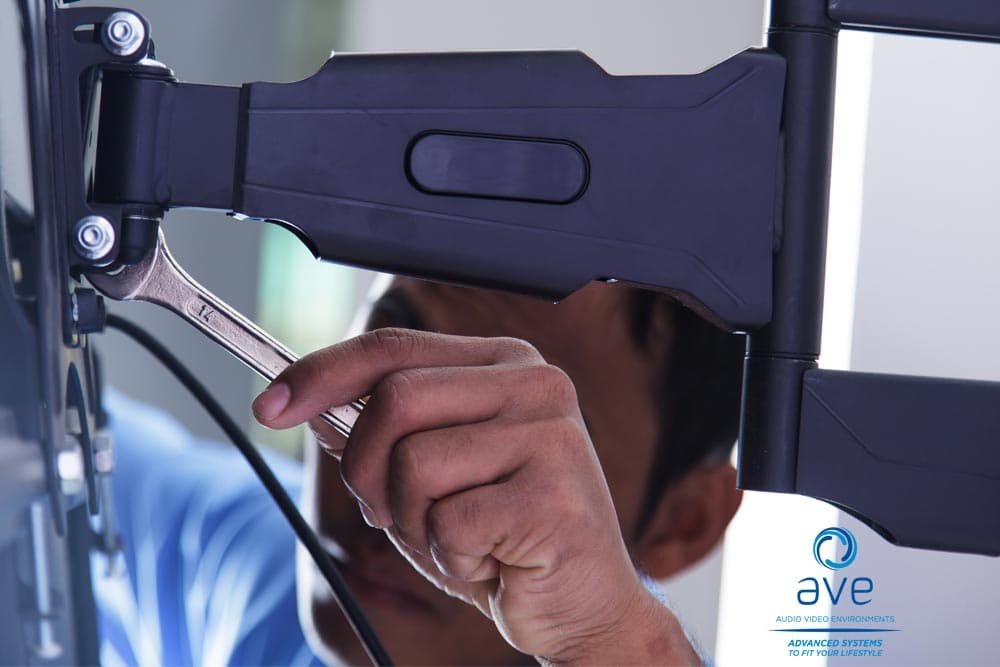 Once you've decided to hang your new television on a wall, the tough part is actually doing it correctly and safely.
How do you know if the TV is secure? How do you know if it's straight? What are you supposed to do with all the wires and power cords? Can you hook up surround sound systems and Blu-Ray players to a wall-mounted television?
When you want it done right, you can contact A.V.E. in Wisconsin Rapids. Our installation experts will come to your home and take all the worry and frustration off your hands. A.V.E. team members can help with surround sound system installation as well. When they leave, you'll have the perfect setup!
A.V.E. home entertainment experts will come out to install televisions in Stevens Point, Wausau, and Marshfield, too. Give us a call today at 715.423.4800 to learn more!