People who say you watch too much TV just don't get it. There's no better way to stay entertained, informed, and educated.
While watching TV you can learn how to cook and get remodeling ideas. You can catch up on the news, weather, and sports. You can expand your horizons with an eye-opening documentary film.
Plus, with all the amazing new shows and streaming services available, binge watching episodes of the latest hit is a must if you want to know what all your friends are talking about.
With so much to watch, it's no wonder people are getting quite creative in finding places to mount their televisions. Here are seven of the most unique locations where homeowners and interior designers have installed flat screen televisions.
1. In Your Bathroom
How much time do you spend in your bathroom every day? Probably more than you realize.
Whether you're working on your hair and makeup or answering the call of nature, this little escape into a world of privacy is the perfect opportunity to watch what you want on TV.
That's why some people choose to mount a television on a bathroom wall. The photo featured above comes from an article on Houzz listing different design ideas for bathroom TVs.
The people who own this classy bathroom can watch a movie while enjoying a soak in their whirlpool tub. Bonus benefit … the acoustics are great in the bathroom.
2. Inside the Fireplace
In a previous article concerning where to mount your television, we told you about options for installing a TV above the fireplace. If you really want to get resourceful, you could try putting a TV in the fireplace.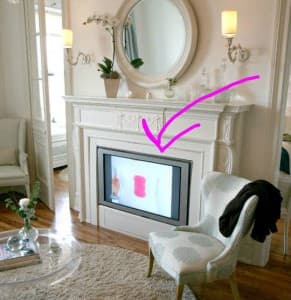 Obviously, this works best with a non-functional fireplace, or when you no longer plan on using it for fires, but you still want to use it as a design element in the room.
The example above comes from an Apartment Therapy article that links to more than 40 other ideas for mounting your television.
If you ever miss the flickering flames and crackling of a real fire, you can always pop in a DVD from Fireplace for Your Home, which is also available on Netflix!
3. Outside on the Patio
If you love using your backyard deck or patio for relaxing and entertaining guests, you'll really enjoy the addition of a flat screen TV.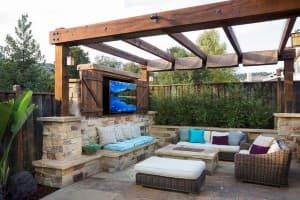 You'll be able to watch the game while you barbecue, put on a movie while you have an outdoor fire, or maybe even relax in the pool while streaming six episodes of your new favorite show.
The one thing you'll need to set up is some sort of weatherproof enclosure for your HD television. Obviously, you must protect electronics from the elements, especially when you're living here in central Wisconsin where winters can be harsh.
Minimalisti.com offers additional advice and ideas for outdoor TV setups on patios and decks.
4. In the Kitchen
How about watching the Cooking Channel or the Food Network while you make a meal? You could follow along with your favorite celebrity chef!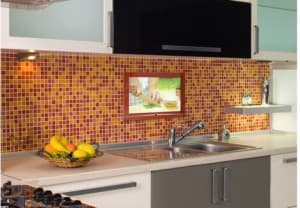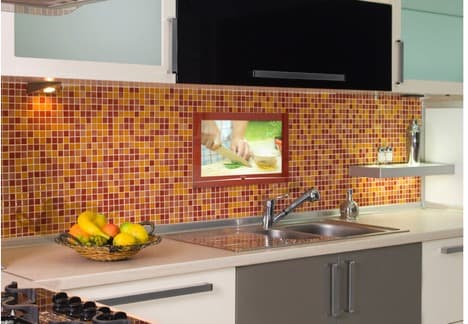 Kitchens are a place where many families spend a lot of time, and even guests congregate there during parties. That's where the food is after all.
It's not that unusual to have a television set up somewhere in the kitchen. Mounting your TV on a wall instead of placing it on a countertop could help you save a lot of space.
Where you install a kitchen TV depends on how you want to use it. Houzz contributor, Rebekah Zaveloff, of KitchenLab wrote about 14 ways to put a TV in your kitchen.
5. Hide it Behind Something Artistic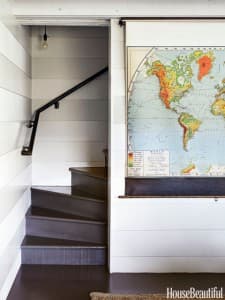 Some people don't want to look at a blank television screen. So instead, they get creative about ways to hide it when it's not in use.
The boring way to do this is to stick your TV in a cabinet with doors. However, if you choose to mount your television on a wall, you can conceal it with things like a large piece of artwork, behind decorative mirrors that open, or cover your wall-mounted TV with a pull-down map as in the example above from HouseBeautiful.com.
Check out 13 clever ways to hide a television from Architectural Digest for even more ideas.
6. From the Ceiling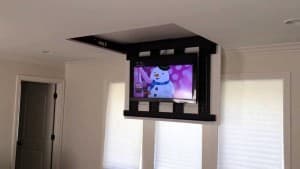 Another easy way to hide a flat screen TV when not in use is to install a ceiling lift television mount.
This apparatus allows you to automatically store your TV in an enclosed space, then you just hit a button to drop it down again when you want to watch something.
Some of these lifts fold up towards the ceiling, as with the image above. Others bring the television up above the ceiling, as shown in the video below.

7. In the Laundry Room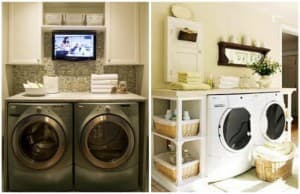 The laundry room is usually one of the dullest places in your home. But, it doesn't have to be!
You might be spending a lot of time folding towels, sheets, and clothes in the laundry room, so why not enjoy yourself while completing that housework?
The folks at the website Design Confidential have some sweet suggestions for creating a luxury laundry room. They say installing a TV may even help you stop procrastinating …
"I think it's fairly obvious that a TV in the laundry room would definitely make it more motivating."
Let A.V.E. Make TV Installation Easy!
Now that you've got ideas for new places to mount a television, it's time to get the ball rolling!
Why do it yourself when you can get expert assistance from A.V.E. in Wisconsin Rapids? We'll help you avoid the hassle and make sure all wiring is concealed for a clean look. We're happy to assist with TV installations in Wisconsin communities like Stevens Point, Marshfield, and Wausau, too!
Contact us today at 715.423.4800 to set up an appointment. A.V.E can also help with a variety of home theater and home automation projects.