How do you get to the point where the place you live feels like home?
Yes, home is a place where you're surrounded by the people you love and where you feel a sense of belonging. It's a place where memories are made and where you feel safe and can relax. A home tells your family's story.
But, have you ever walked into someone else's house and got that "homey" feeling? There's something welcoming and comforting about the atmosphere.
How do you make a home like that?
Here are some creative concepts to help you turn any home into a more enjoyable place.
1. Choose the Right Color for Every Room
A fresh coat of paint can totally transform a room. That's because color has a major impact on our minds and our moods.
Picking the right paint color for each room of your house should involve more than just what's trendy or what goes with the carpet.
According to WebMD.com, psychologists say the colors used to decorate rooms can have a direct effect on your emotional well-being as well as other aspects of menta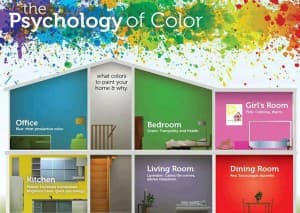 l health.
For instance, there are studies showing blue rooms encourage productivity and creativity. Red can promote focus and raise the energy level. Yellow is energizing, too. It may also improve your mood and even encourage your body to boost its metabolism.
Want your kid to slow down? Try painting his bedroom in a cool and calming shade of green.
The image below from FreshHome.com shows how you can use color based on the function of each room.
2. Choose the Right Set-Up for Every Room
Does your home have flow? The way you set things up can make or break the functionality, design, and atmosphere of a room.
Design historian, Alessandra Wood, wrote on The Huffington Post about interior design tips that can improve flow. She suggests these five ideas:
Mirrors – to make small spaces feel more open and reflect light.
Area rugs – to provide framework in a room and anchor points for furniture.
Focal points – spots to gather around like fireplaces, TVs, and tables.
Clear entryways – good flow means making it easy for people to move smoothly throughout your home.
Matching furniture and walls – another way to make rooms feel less crowded.
"When your furniture matches the color of your walls, it will visually fade into the wall and create the illusion of a more open space," Wood writes. "This works best with neutrals, like whites or grays, which offer a clean backdrop for the rest of the room."
You've probably heard of feng shui, the Chinese system of creating a balanced, harmonious atmosphere, but maybe you thought that was a little too far out.
Feng shui actually has some very simple ideas that can improve the way you set up the rooms in your home. You don't necessarily need to dive into all the positive/negative energy and Chinese philosophy to make use of it.
For example, you should always place the desk in your home office facing the door. This puts you in a position of power. However, you should never have your bed directly facing the door.
Feng shui experts also suggest things like tables with rounded corners, allowing people to sit with their backs to the wall, and reducing clutter in every room whenever possible.
Get more feng shui basics from Inhabitat.com.
3. Choose the Right Scents for Every Room
Aromas also impact the ambiance of your home. Scents have a surprisingly profound impact on mood and memory.
Have you ever gotten a nostalgic feeling when you smelled something that reminded you of your childhood? The right fragrance can evoke comfort and tranquility, and you can choose appropriate aromas for each room.
Real Simple spoke with fragrance expert, Rayda Vega, about bringing pleasant scents into different areas of the home. She offers some keen insight.
Vega suggests floral scents for your living room, unless you're throwing a party. Then you might want something more lively, like vanilla or dragon fruit.
Flowery aromas will conflict with your taste buds in the kitchen and dining areas. These rooms should use mouthwatering scents like apple or pear.
In the bathroom, where unpleasant smells often occur, experts like Vega suggest clean and refreshing scents such as crisp linen or something citrusy.
And of course, in the bedroom you'll want fragrances that promote relaxing sleep, or perhaps a little romance. Scents like lavender, jasmine, and orange blossom work well.
From potpourri and candles to essential oils and incense, there are lots of ways to bring the right aroma into each room. Whatever method you choose – just don't overdo it!
4. Choose the Right Sounds for Every Room
So far, we've examined how each room should look, how they flow, and even how they should smell. Let's not forget about the ears. The way your house sounds can make it feel more like home, too!
Music is one of the most powerful ways to create a desired atmosphere. It's also one of the best ways to express your unique personality. Yet, it's not always on top of the list of things we think about when designing a home.
What if you could use music in different rooms in the same way you use paint colors or candles and air fresheners? Multi-room music from A.V.E. in Wisconsin Rapids lets you do just that!
Your entire house can be filled with the music you love. Multi-room music even lets you play different artists in different rooms at the same time. With our convenient app, you can use a mobile device to raise the volume up to dance party levels, or bring it down so you can fall asleep listening to something soothing.
Play some peaceful nature sounds in your office to keep stress away, and let the kids blast their favorite tunes with friends downstairs in the basement rec room.
A.V.E. provides many other products and services that can help make your house feel more like home. Our home security technology helps you feel safer, while our home theater options let you make even more memories with your family.
A.V.E. is proud to serve homeowners all over central Wisconsin, including Wausau, Stevens Point, and Marshfield. Contact our experts today to find out more about how A.V.E. can help you make your house into the home of your dreams.
Call 715.423.4800 and schedule an appointment for a free in-home consultation!